Welcome to the A&B recruitment about us page. Here you can get to know more about the company, the team behind it, recruitment news and the services we provide.
So who are A&B? 
Anand Panchmatia and Becky Harker! Hence the initials 'A & B' being in the company name in case you were wondering…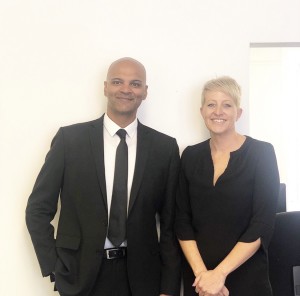 Business partners Anand and Becky set up A&B Recruitment in 2014 and since then, the company has gone from strength to strength in developing and establishing A&B within the recruitment market by building strong client relationships and a professional, honest service.
This development didn't go unnoticed either with A&B receiving an award for Wiltshire business of the year under the category 'Start Up Business Of The Year' award in 2016.
As you can imagine, Anand, Becky and all of the A&B team were delighted with this achievement.
The team behind A&B:
Every single member of the team are extremely passionate about providing a friendly and professional recruitment service; they really go the extra mile to meet the needs of each candidate and client whether it be finding their perfect career or perfect employee.
What makes A&B an A* service?
A&B aim to provide an A* service by sticking to the policy of meeting every single candidate that we place face to face to ensure our clients get the best possible match.
When meeting a candidate, a member of the A&B team will carry out a full interview to gain a clear understanding of their needs, skills, experience and personality, which enables A&B to make the perfect match, for our client's requirements.